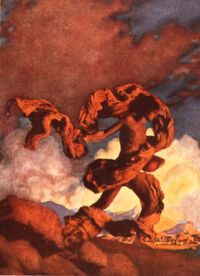 In Greek myth, dragon's teeth feature prominently in the legends of the Phoenician prince Cadmus and Jason's quest for the Golden Fleece. In each case, the dragon's teeth, once planted, would grow into fully armed warriors.
Cadmus was the bringer of literacy and civilization, killed the sacred dragon that guarded the spring of Ares. The goddess Athena told him to sow the teeth, from which sprang a group of ferocious warriors called the spartoi. He threw a precious jewel into the midst of the warriors, who turned on each other in an attempt to seize the stone for themselves. The five survivors joined with Cadmus to found the city of Thebes.
Jason obtained the remaining dragon's teeth with the aid of Aeëtes of Colchis. He offered the Golden Fleece to Jason if Jason would sow them into the ground. Jason did this and successfully overcame the warriors with the aid of Medea, who gave him the means to resist fire and steel.
The classical legends of Cadmus and Jason have given rise to the phrase "to sow dragon's teeth." This is used as a metaphor to refer to doing something that has the effect of fomenting disputes, rather akin to the law of unintended consequences.