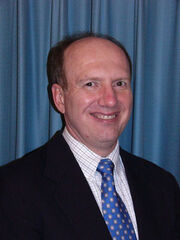 Dr. John P. Workman, Jr. is Professor of Marketing and Chair of the Marketing and Management Department at
Creighton University
, founder of the Ignatian Wiki, and founder and Chair of the Board of
TownCommons.com
. Dr. Workman has a B.S. in computer science from N.C. State University, an MBA from the University of Virginia and a Ph.D. from M.I.T. Dr. Workman's research has been published in journals such as
Journal of Marketing, Journal of Marketing Research, Strategic Management Journal, Journal of Business Research, Journal of the Academy of Marketing Science, IEEE Transactions on Engineering Management, Marketing Management
, and
Qualitative Sociology
. He was listed in
Who's Who Among America's Teachers
for 2004 and for 2005 and has been selected for inclusion in
Marquis' Who's Who in America
for 2006, 2007, 2008, 2009, and 2010.
For more information on Dr. Workman and copies of his vita and research papers, see his Creighton website.
See also
external link
Ad blocker interference detected!
Wikia is a free-to-use site that makes money from advertising. We have a modified experience for viewers using ad blockers

Wikia is not accessible if you've made further modifications. Remove the custom ad blocker rule(s) and the page will load as expected.