Tutu's role since apartheid
After the fall of apartheid, Tutu headed the Truth and Reconciliation Commission. He retired as Archbishop of Cape Town in 1996 and was made emeritus Archbishop of Cape Town, an honorary title that is unusual in the Anglican church[1] He was succeeded by Njongonkulu Ndungane. At a thanksgiving for Tutu upon his retirement as Archbishop in 1996, Nelson Mandela said:
His joy in our diversity and his spirit of forgiveness are as much part of his immeasurable contribution to our nation as his passion for justice and his solidarity with the poor.
Tutu is generally credited with coining the term Rainbow Nation as a metaphor for post-apartheid South Africa after 1994 under African National Congress rule. The expression has since entered mainstream consciousness to describe South Africa's ethnic diversity.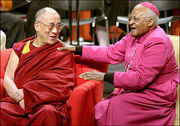 Since his retirement, Tutu has worked as a global activist on issues pertaining to democracy, freedom and human rights. In 2006, Tutu launched a global campaign, organised by Plan, to ensure that all children were registered at birth, as an unregistered child did not officially exist and was vulnerable to traffickers and during disasters. Tutu is the Patron of the educational improvement charity, Link Community Development.
He frequently joins and initiates actions with his fellow Nobel Peace Prize Laureates in support of Daw Aung San Suu Kyi, and the Dalai Lama. In March 2009 he was joined by more than 40 celebrities and 10,000 signatories in a letter on TheCommunity.com urging Chinese officials to "stop naming, blaming and verbally abusing" the Dalai Lama, and appealed to the UN High Commissioner for Human Rights to visit and report on Tibet to the international community.[2]
---
Ad blocker interference detected!
Wikia is a free-to-use site that makes money from advertising. We have a modified experience for viewers using ad blockers

Wikia is not accessible if you've made further modifications. Remove the custom ad blocker rule(s) and the page will load as expected.