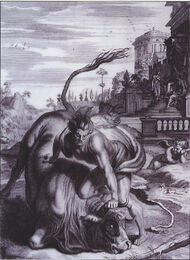 In Greek mythology, the Cretan Bull was either the bull that carried away Europa or the bull Pasiphaë fell in love with, giving birth to the Minotaur.
The Seventh Labour of Heracles
Heracles was sent to capture the bull by Eurystheus as his seventh task. He sailed to Crete, whereupon the King, Minos, gave Heracles permission to take the bull away and offered him assistance, which Heracles denied because of pride.[1], as it had been wreaking havoc on Crete by uprooting crops and leveling orchard walls. Heracles snuck up behind the bull and then used his hands to strangle it, and then shipped it back to Athens. Eurystheus, who hid in his pithos at first sight of the creature, wanted to sacrifice the bull to Hera, who hated Heracles. She refused the sacrifice because it reflected glory on Heracles. The bull was released and wandered into Marathon, becoming known as the Marathonian Bull.[1] Theseus would later sacrifice the bull to Athena and/or Apollo. Eurystheus then sent Heracles to bring back the man-eating Mares of Diomedes.
Capture by Theseus
Androgeus, a son of Minos and Pasiphaë, competed in the games held by Aegeus, King of Athens. He won all the games, so angering Aegeus that he had the young man killed (some legends claim that he was sent to confront the Bull itself). Devastated, Minos went to war with Athens and won. As punishment, the Athenians had to send several youths every year to be devoured by the Minotaur.
Aegeus' own son, Theseus, set to try and capture the Bull. On the way to Marathon, Theseus sought shelter from a storm in the shack owned by an ancient lady named Hecale. She swore to make a sacrifice to Zeus if Theseus was successful in capturing the bull. Theseus did capture the bull, but when he returned to Hecale's hut, she was dead. Theseus built a deme in her honor. He then dragged the Bull to Athens where he sacrificed it.
Theseus then went to Crete where he killed the Minotaur with the help of Minos' daughter Ariadne.
References
Ad blocker interference detected!
Wikia is a free-to-use site that makes money from advertising. We have a modified experience for viewers using ad blockers

Wikia is not accessible if you've made further modifications. Remove the custom ad blocker rule(s) and the page will load as expected.