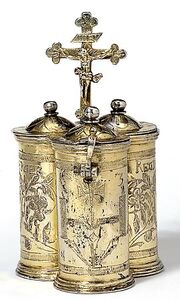 A chrismarium or chrismatory can either be a place in a church set apart for the administration of confirmation or an ampulla or jar, globular in form, usually made of silver or pewter, and used for containing chrism oil.[2]
References
See also
This article incorporates text from the Catholic Encyclopedia of 1913, a publication now in the public domain.
Ad blocker interference detected!
Wikia is a free-to-use site that makes money from advertising. We have a modified experience for viewers using ad blockers

Wikia is not accessible if you've made further modifications. Remove the custom ad blocker rule(s) and the page will load as expected.