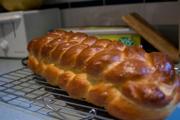 Challah' is a braided bread. It is usually a bit sweeter or more decorative than regular bread and often used to celebrate holidays, especially Shabbat. Most challah is a white, egg bread, but that is not necessary. The basic ingredients are flour, water, sugar (or honey), eggs, oil, salt and yeast. Challah is often glazed with egg and may have other special ingredients, such as raisins or poppy seeds. Other variations include the number of pieces that are braided -- commonly 3 or 6 and the shape. While most challah is basically a straight braid, for special occasions, some will braid it into a loop or circle or create a double braid.
The term challah comes from the piece of each bread loaf that sacrificed and given to the priests in the days of the Temple. Some still throw out or burn a piece of the dough in remembrance.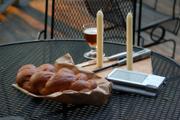 Recipes
| | |
| --- | --- |
| | This page uses content from the English version of The Judaism Wiki. The original article was at Challah. The list of authors can be seen in the page history. As with the Religion wiki, the text of The Judaism Wiki is available under the CC-BY-SA. |
Ad blocker interference detected!
Wikia is a free-to-use site that makes money from advertising. We have a modified experience for viewers using ad blockers

Wikia is not accessible if you've made further modifications. Remove the custom ad blocker rule(s) and the page will load as expected.