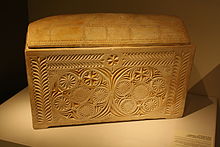 The Caiaphas ossuary is a small buriel box which may have contained the remains of the High Priest Caiaphas, also known as Joseph Caiaphas, who was among those who tried to sentence Jesus to death.
Discovery
In November 1990, an ossuary was found while paving a road in the Peace Forest south of the Abu Tor neighborhood of Jerusalem.
On one side of the box, an insription written in Aramaic said "Joseph son of Caiaphas". The box contained the bones of a elderly man which dated back to the first century. While some doubt the remains are those of the same Caiaphas who is referred to in the New Testament, many believe that they are.
Ad blocker interference detected!
Wikia is a free-to-use site that makes money from advertising. We have a modified experience for viewers using ad blockers

Wikia is not accessible if you've made further modifications. Remove the custom ad blocker rule(s) and the page will load as expected.