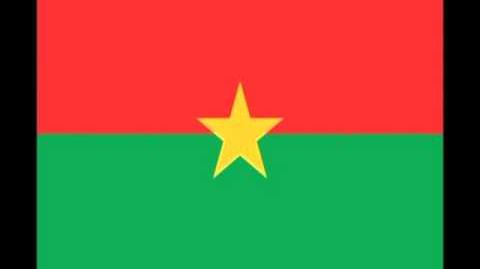 Burkina Faso (pronounced /bərˌkiːnə ˈfɑːsoʊ/ burr-KEE-nə FAH-soh; French: [byʁkina faso]), also known by its short-form name Burkina, is a landlocked nation in West Africa. It is surrounded by six countries: Mali to the north, Niger to the east, Benin to the south east, Togo and Ghana to the south, and Cote d'Ivoire to the south west. Its size is 274,000 km² with an estimated population of more than 13,200,000. Formerly called the Republic of Upper Volta, it was renamed on August 4, 1984, by President Thomas Sankara to mean "the land of upright people" in Moré and Dioula, the major native languages of the country. Literally, "Burkina" may be translated, "men of integrity," from the Moré language, and "Faso" means "father's house" in Dioula. The inhabitants of Burkina Faso are known as Burkinabè (pronounced /bərˈkiːnəbeɪ/ burr-KEE-nə-bay).
Religion in Burkina Faso
According to the 2006 census, 61% of the people of Burkina Faso are Muslims, predominantly Sunni, 19% are Roman Catholics 15% follow indigenous African beliefs and 4% are Protestants. Less than 0.1% are Buddhists.There are very few atheists in Burkina Faso.
References
External links
| | |
| --- | --- |
| | This page uses content from the The Dhamma Wiki.'Dhamma Wiki content is released in the public domain. The Dhamma is free. The Buddha did not hold copyrights either. The sharing of the Buddha Dhamma is solely for the purpose of prolonging the buddhasasana through release. |
| | |
| --- | --- |
| | Religion Wiki uses embedded video content from YouTube.com. We do not host or upload any videos, films, or media files. Therefore, Religion Wiki is not responsible for the accuracy, compliance, copyright, legality, decency, or any other aspect of the content of other linked sites. If you have any legal issues please contact the appropriate media file owners / host sites. |
Ad blocker interference detected!
Wikia is a free-to-use site that makes money from advertising. We have a modified experience for viewers using ad blockers

Wikia is not accessible if you've made further modifications. Remove the custom ad blocker rule(s) and the page will load as expected.