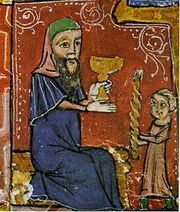 Sabbath in the Bible is a weekly day of rest and time of worship. It is observed differently in Judaism and Christianity and informs a similar occasion in several other faiths. Though many viewpoints and definitions have arisen over the millennia, most originate in the same textual tradition.
Sabbath was first described in the Biblical account of the seventh day of Creation. Observation and remembrance of Sabbath is one of the Ten Commandments (the fourth in the original Jewish, the Eastern Orthodox, and most Protestant traditions, the third in Roman Catholic and Lutheran traditions); though views differ on the applicability of Biblical law in Christianity. Most people who observe Biblical Sabbath regard it as having been instituted as a "perpetual covenant [for] the people of Israel" and proselytes (Exodus 31:13-17, Exodus 23:12, Deuteronomy 5:13-14), a sign in respect for the day during which God rested after having completed Creation in six days (Genesis 2:2-3, Exodus 20:8-11). Isaiah extends the term to include even corrupted rest-day traditions (Isaiah 1:13).
Etymology
Sabbath
The Anglicized term "Sabbath" is in Hebrew Shabbath (שבת, now usually Shabbat, Strong's Concordance number 7676). It derives from the verb of same Hebrew spelling but different pointing (shabath, 7673, often shavat), defined as "repose, i.e. desist from exertion" (often "rest" or "cease"). (Another noun form of this root, shebeth ("cessation", 7674), is identical to the infinitive (7675) of the common word "to sit" (yashav, 3427).) Shabbath is the intensified form and is used only for a weekly cessation, 107 times in the Tanakh.
The name form is "Shabbethai" (Shabbethay, "restful", 7678), the name of three individuals in the Tanakh, and of Sabbatai Zevi. The Talmud also contains a pun on shebeth, where it secondarily means "dill", a spice. Another related word is modern Hebrew shevita, a labor strike, with the same focus on active cessation of labor. And in over thirty languages other than English, the common name for Saturday is a cognate of "Sabbath".
The rarely attested Babylonian Sapattum or Sabattum is cognate, but is said to be monthly rather than weekly, on the evidence of the reconstruction of a broken tablet; this word is regarded as a form of Sumerian sa-bat ("mid-rest"), attested in Akkadian as um nuh libbi ("day of mid-repose"). It is unclear which form of the concept is older.
The dependent Greek cognate is Sabbaton (4521), used in the New Testament 68 times. Two inflections, Hebrew Shabbathown (7677) and Greek "σαββατισμός" (Sabbatismós, 4520), are both translated "sabbatism" in Strong's (a "special holiday" or "the repose of Christianity"). The Hebrew form refers to the High Sabbaths. The Greek form is cognate to the Septuagint verb sabbatizo (e.g., Exodus 16:30; Leviticus 23:32; 26:34; 2 Chronicles 36:21). In English, the concept of "Sabbatical" is cognate to these two forms.
The King James Bible uses the English form "sabbath(s)" 172 times. In the Old Testament, "sabbath(s)" translates Shabbath all 107 times (including 35 plurals), plus shebeth three times, shabath once, and the related mishbath once (plural). In the New Testament, "sabbath" translates Sabbaton 59 times and prosabbaton once (the day before Sabbath); Sabbaton is also translated as "week" nine times, by synecdoche.
Shmita
The year of Shmita (Hebrew shemittah, שמטה, Strong's 8059), also called the Sabbatical Year, is the seventh year of the seven-year agricultural cycle mandated by the Torah for the Land of Israel. During Shmita, the land is left to lie fallow and all agricultural activity—including plowing, planting, pruning, and harvesting—is forbidden by Torah law. The term is translated "release" five times in the Book of Deuteronomy (from the root shamat, "desist, remit", 8058).
Textual tradition
Tanakh
Law
Book of Genesis: In 1:1-2:4, God creates the heavens and earth in six days and rests on the seventh day, which he thus confers with special status.

So God blessed the seventh day and made it holy, because on it God rested from all his work that he had done in creation. —Genesis 2:3

This passage uses root form shabath, rather than intensified form Shabbath; neither the noun form nor a positive Sabbath command appears in Genesis. In 8:4, Noah's ark comes to "rest" in the seventh month (later revealed as the month of Shabbathown); here the word for "rest" is not shabath but its synonym nuwach, the root of Noah's name.
Book of Exodus: In 16:23-29, immediately after the Exodus from Egypt, Sabbath is revealed as the day upon which manna and manna gathering is to cease weekly; the first of many Sabbath commands is given, in both positive and negative forms.

Six days you shall gather it, but on the seventh day, which is a Sabbath, there will be none .... Remain each of you in his place; let no one go out of his place on the seventh day. —Exodus 16:26, 16:29

In 20:8-11, one month later, it is enjoined to be remembered as a memorial of Creation, as one of the Ten Commandments, the covenant revealed after God liberated Israel from Egyptian bondage.

Remember the Sabbath day, to keep it holy. Six days you shall labor, and do all your work, but the seventh day is a Sabbath to the LORD your God. On it you shall not do any work .... For in six days the LORD made heaven and earth, the sea, and all that is in them, and rested on the seventh day. Therefore the LORD blessed the Sabbath day and made it holy. —Exodus 20:8-11

In 31:12-17, Sabbath is affirmed as a perpetual sign and covenant, and Sabbath-breakers are to be cut off from the assembly or killed. In 35:2-3, lighting fire on Sabbath is forbidden.
Book of Leviticus: In 16:31, Yom Kippur is stated to be "Sabbath of Sabbaths". In 19, many of the Ten Commandments are repeated, including Sabbath (19:3, 19:29-30). In 23, weekly Sabbath, new moon, and the seven annual High Sabbaths (which do not necessarily occur on weekly Sabbath) are defined. In 24:8, the showbread is to be laid out in the tabernacle every Sabbath. In 25:2-6, Shmita is given as a year of rest for land every seven years. In 26:2, 26:34-35, 26:43, Sabbath is again enjoined, and Moses warns of the curse that if Israel disobeys, it will go into exile while the land enjoys Sabbaths denied to it during the time of rebellion.
Book of Numbers: In 15:32-36, a man gathering firewood on Sabbath is put to death; the potential punishment for desecrating Sabbath (stoning) is the most severe in Jewish law. In 28-29, the offerings for Sabbath, new moons, and High Sabbaths are enjoined.
Book of Deuteronomy: In 5:12-14, the Ten Commandments are restated; instead of referring again to Creation, Sabbath is enjoined to be observed as a memorial of the Exodus and redemption of Israel.
Prophets
Writings
New Testament
Gospels
Matthew, Mark, and Luke contain several synoptic accounts, which John occasionally concurs in.
Epistles
Apocrypha
Frameworks
Three primary interpretative frameworks exist, with many subcategories. Interpretation is complicated by the differing meanings attributed to the unambiguous seventh-day Sabbath prior to the resurrection of Jesus; the ambiguity of events after the resurrection, including first-day and seventh-day events (Ac. 20:7, 1 Cor. 16:2, perhaps Rev. 1:10; Ac. 1:12, 13:13-45, 15:19-29, 16:13, 17:2, and 18:4); and several early Christian observances being attested as daily or on nonspecific days (Mk. 2:1-2, Lk. 19:47-20:1, Ac. 2:42-47). Early Christians also observed Jewish practices as a sect of Judaism (Ac. 3:1, 5:27-42, 21:18-26, 24:5, 24:14, 28:22), and observed Tanakh feasts (Passover, Ac. 12:3-4, 20:6, 1 Cor. 5:7-8, 15:20, Jude 12; Pentecost, Ac. 2:1, 18:21, 20:16, 1 Cor. 16:8; Atonement, Ac. 27:9). Christian interpreters of each framework consider the high regard for the New Covenant described in Heb. 8:1-13 as supporting their Sabbath positions.
Seventh day
Jewish Shabbat is observed from sundown on Friday until the appearance of three stars in the sky on Saturday night; it is also observed by a minority of Christians. Thirty-nine activities prohibited on Shabbat are listed in Tractate Shabbat (Talmud). Customarily, Shabbat is ushered in by lighting candles shortly before sunset, at halakhically calculated times that change from week to week and from place to place. The Jewish interpretation usually states that the New Covenant (Jer. 31:31) refers to the future Messianic Kingdom.
Several Christian denominations (such as Seventh Day Baptist and Seventh-day Adventist) observe Sabbath in similar manner as in Judaism, but observance ends at Saturday sunset instead of Saturday nightfall. They believe that keeping seventh-day Sabbath is a moral obligation arising out of the Ten Commandments that honors God as Creator and Deliverer. They also use "Lord's Day" to mean the seventh day, based on Scriptures in which God calls it "my day" and "of the LORD". The Christian seventh-day interpretation usually states that the New Covenant expands Sabbath from Israel to all nations.
The Seventh-day Adventist official 28 fundamental beliefs (at 20) states:
The beneficent Creator, after the six days of Creation, rested on the seventh day and instituted the Sabbath for all people as a memorial of Creation. The fourth commandment of God's unchangeable law requires the observance of this seventh-day Sabbath as the day of rest, worship, and ministry in harmony with the teaching and practice of Jesus, the Lord of the Sabbath. The Sabbath is a day of delightful communion with God and one another. It is a symbol of our redemption in Christ, a sign of our sanctification, a token of our allegiance, and a foretaste of our eternal future in God's kingdom. The Sabbath is God's perpetual sign of His eternal covenant between Him and His people. Joyful observance of this holy time from evening to evening, sunset to sunset, is a celebration of God's creative and redemptive acts. (Gen. 2:1-3; Ex. 20:8-11; Luke 4:16; Isa. 56:5, 6; 58:13, 14; Matt. 12:1-12; Ex. 31:13-17; Eze. 20:12, 20; Deut. 5:12-15; Heb. 4:1-11; Lev. 23:32; Mark 1:32.)[2]
Both forms of the seventh-day interpretation usually state that Jesus's teachings relate to the Pharisaic position on Sabbath observance, and that Jesus kept seventh-day Sabbath throughout his life on earth.
Sunday law
Noticing the rise of blue laws, the Seventh-day Adventist church in particular has traditionally taught that in the end time there will be an international Sunday law, enforced by a coalition of religious and secular authorities; church pioneers taught that seventh-day Sabbath will be a "mark" or "seal" or test of God's people that seals them, even as those who do not observe Sunday rest will be persecuted and killed. Ellen G. White interpretated Dan. 7:25, Rev. 13:15, Rev. 7, Ezek. 20:12-20, and Ex. 31:13 in this way, where the subject of persecution in prophecy is thought to be about Sabbath commandments.
First day
In most Christian denominations (Roman Catholic, some Eastern Orthodox, and most Protestant), "Sabbath" is a synonym of "Lord's Day" (Sunday), which is kept in commemoration of the resurrection of Christ, and often celebrated with the Eucharist. It is often the day of rest, and usually the day of communal worship. The Lord's Day is considered both the first day and the "eighth day" of the seven-day week (or, in some calendars, Sunday is designated the seventh day of the week). Relatively few Christians regard first-day observance as entailing all of the ordinances of Shabbat. This interpretation usually states that the Holy Spirit through the Apostles instituted the celebration of the first day to commemorate Jesus's resurrection, and that the New Covenant transfers Sabbath-keeping to the first day. However, there is "not one verse in scripture" that will testify to this interpretation. Apostle Paul who followed Christ example (1Cor 11:1, Luk 4:16) kept the Sabbath (Sabbath = 7th day, Exo 20:10) "as his custom was" (Acts 17:2), which was "after" the resurrection of Christ. Sabbath worship on the first day, rather than the biblical seventh day, was officially changed by Roman Emperor Constantine in the year 321AD.[3]
The Westminster Confession of Faith 21:7-8, a Reformed Sabbatarian creed, states:
As it is the law of nature, that, in general, a due proportion of time be set apart for the worship of God; so, in His Word, by a positive, moral, and perpetual commandment binding all men in all ages, He has particularly appointed one day in seven, for a Sabbath, to be kept holy unto him (Ex. 20:8, 20:10-11, Is. 56:2, 56:4, 56:6-7): which, from the beginning of the world to the resurrection of Christ, was the last day of the week: and, from the resurrection of Christ, was changed into the first day of the week (Ge. 2:2-3, 1 Cor. 16:1-2, Ac. 20:7), which, in Scripture, is called the Lord's Day (Rev. 1:10), and is to be continued to the end of the world, as the Christian Sabbath (Ex. 20:8, 20:10, Mt. 5:17). This Sabbath is to be kept holy unto the Lord when men, after a due preparing of their hearts, and ordering of their common affairs beforehand, do not only observe an holy rest all the day from their own works, words, and thoughts about their wordly employments and recreations (Ex. 20:8, 16:23, 16:25-26, 16:29-30, 31:15-17, Is. 58:13, Neh. 13:15-19, 13:21-22), but also are taken up the whole time in the public and private exercises of His worship, and in the duties of necessity and mercy (Is. 58:13).[4]
The Epistle of Barnabas (c. 120-150) quotes Is. 1:13 to suggest that the concept of the "eighth day" marks the resurrection and the completion of God's work of saving mankind from sin.
He also tells them, I have no patience with your new moons and sabbaths. You can see what he is saying there: 'It is not these sabbaths of the present age that I find acceptable, but the one of my own appointment: the one that, after I have set all things at rest, is to usher in the Eighth Day, the commencement of a new world.' (And we too rejoice in celebrating the Eighth Day; because that was when Jesus rose from the dead, and showed Himself again, and ascended into heaven.)[5]
Assemblies
The following textual evidence for first-day assembly is combined with the notion that the rest day should follow the assembly day to support first-day Sabbatarianism. On the first day of the week (the day of Firstfruits, Jesus was raised from the dead (Mk. 16:9, see textual note above); also on that day he appeared to Mary Magdalene, Peter, Cleopas, and others (all Gospels). "On the evening of that first day of the week" (Roman time), or the evening beginning the second day (Hebrew time), the resurrected Jesus appeared at a meeting of ten apostles and other disciples (Jn. 20:19). The same time of the week "a week later" (NIV) or, more literally, "after eight days again" inclusive (KJV), Jesus appeared to the eleven apostles and others (Jn. 20:26). After Jesus ascended (Ac. 1:9), on the feast of Pentecost or Shavuot (the 50th day inclusive from Firstfruits and thus the first day of the week), the Spirit of God was given to the disciples, establishing the Christian Church. On one occasion in Troas, the early Christians met on the first day to break bread and to listen to Christian preaching (Ac. 20:7). Paul also stated that the churches of Corinth and Galatia should set aside donations on the first day for collection (1 Cor. 16:2). Didache 14 can be translated as: "On the Lord's own day, gather yourselves together and break bread and give thanks"; breaking bread may refer to Christian fellowship, agape feasts, or Eucharist (cf. Ac. 2:42, 20:7). Other interpreters believe these references do not support the concept of transfer of the seventh-day rest, and some add that they do not sufficiently prove that Sunday observance was an established practice in the primitive New Testament church.
Unspecified day
As another minority view, some modern Christians uphold Sabbath but do not limit its observance to either Saturday or Sunday, instead advocating rest on any chosen day of the week, or advocating Sabbath as instead a symbolic metaphor for rest in Christ. This non-Sabbatarian interpretation usually states that Jesus's teachings and the New Covenant abrogated the laws of Sabbath.
Some of Jesus's teachings are considered as redefining Sabbath law (Lk. 13:10-17, Jn. 5:16-18, Jn. 9:13-16). Since Jesus is understood to have fulfilled the Law (or Torah), non-Sabbatarians believe that his followers are no longer bound by Sabbath.
Non-Sabbatarians cite 2 Cor. 3:2-3, in which the believers are compared to "a letter from Christ, the result of our ministry, written ... not on tablets of stone but on tablets of human hearts"; this interpretation states that Christians accordingly no longer follow the Ten Commandments ("tablets of stone"), but follow a law written upon "tablets of human hearts." 2 Cor. 3:7-11 adds that "if the ministry that brought death, which was engraved in letters on stone, came with glory ..., will not the ministry of the Spirit be even more glorious? .... And if what was fading away came with glory, how much greater is the glory of that which lasts!" This is interpreted as teaching that new-covenant Christians are no longer under the Mosaic law, and that Sabbath-keeping is no longer required. Further, because "love is the fulfillment of the law" (Rom. 13:10), the new-covenant "law" is considered to be based entirely upon love and to rescind Sabbath.
Interpretations
Genesis 2
Based on Genesis 2:1-3, Sabbath is considered the first holy day mentioned in the Bible, with God being the first to observe it. In order to reconcile an omnipotent God with a resting on the seventh day of Creation, the notion of active cessation from labor, rather than passive rest, has been regarded as a more consistent reading of God's activity in this passage.
Hebrews 4
The unique word sabbatismos in Hebrews 4:9 is translated "rest" in the Authorized Version and others; "Sabbath rest" in the New International Version and other modern translations; "Sabbatism" (a transliteration) in the Darby Bible; "Sabbath observance" in the Scriptures 98 Edition; and "Sabbath keeping" in the Bible in Basic English. The word also appears in Plutarch, De Superstitione 3 (Moralia 166A); Justin, Dialogue with Trypho 23:3; Epiphanius, Adversus Haereses 30:2:2; Martyrium Petri et Pauli 1; and Apostolic Constitutions 2:36:2. Andrew Lincoln states, "In each of these places the term denotes the observance or celebration of the Sabbath .... Thus the writer to the Hebrews is saying that since the time of Joshua an observance of the Sabbath rest has been outstanding."[6] This is taken to support the belief that seventh-day Sabbath-keeping remains an abiding Christian duty.
Matthew Henry calls this rest "a rest of grace, and comfort, and holiness, in the gospel state. And a rest in glory, where the people of God shall enjoy the end of their faith, and the object of all their desires .... undoubtedly the heavenly rest, which remains to the people of God, and is opposed to a state of labour and trouble in this world. It is the rest they shall obtain when the Lord Jesus shall appear from heaven .... God has always declared man's rest to be in him, and his love to be the only real happiness of the soul."[7] This is taken to support the belief that Sabbath-keeping is a metaphor for the eternal "rest" that Christians enjoy in Christ, prefigured by the promised land of Canaan.
Since Hippolytus of Rome in the early third century, the term has been taken to have special reference to a millennial Sabbath kingdom after six millennia of labor.
References
Commandments
Related articles
hu:Szombatosok
Ad blocker interference detected!
Wikia is a free-to-use site that makes money from advertising. We have a modified experience for viewers using ad blockers

Wikia is not accessible if you've made further modifications. Remove the custom ad blocker rule(s) and the page will load as expected.