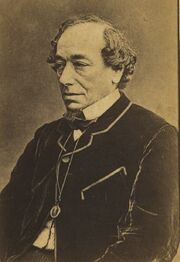 Benjamin Disraeli
(1804–1881) was an early founder of the Conservative Party in Britain who served twice as prime minister of the United Kingdom (1868 and 1874-1880). He had an intense rivalry with the leader of the Liberal Party, William Gladstone.
Disraeli, a Christian (Anglican) of Sephardic Jewish ancestry, succeeded Lord Derby in leadership of the Conservative Party. Disraeli was noted as a prominent figure in the protectionist wing of the Conservative Party. His position on economic and imperial issues led to a straining of the relationship between himself and the then leader Lord Derby.
Disraeli's friendship with Queen Victoria was a significant influence on his political career, most notably when he passed the 1876 Royal titles which elevated her to the position of Empress of India, thus giving her equal prestige to the tsar of the Russian empire.
Disraeli's foreign policy was clearly shaped by his belief, as he was notably hostile to relations with the Ottoman Empire due to its ongoing massacre of Bulgarian Christians.
Disraeli was also an accomplished writer who penned romances.
| | | |
| --- | --- | --- |
| " | The best way to become acquainted with a subject is to write a book about it. | " |
Works
Novels: (Most well known)
Vivien Grey 1826
Coningsby, or the Younger Generation 1844
Sybil, or the Two Nations 1845
Tancred, or the New Crusade 1847
Ad blocker interference detected!
Wikia is a free-to-use site that makes money from advertising. We have a modified experience for viewers using ad blockers

Wikia is not accessible if you've made further modifications. Remove the custom ad blocker rule(s) and the page will load as expected.