The Ashoka tree (lit., "sorrow-less") (S. asoca (Roxb.) Wilde, or Saraca indica L. ) is a plant belonging to the Caesalpiniaceae subfamily of the legume family.[1] It is an important tree in the cultural traditions of the Indian Subcontinent and adjacent areas.
Description
The asoka is an rainforest tree. Its original distribution was in the central areas of the Deccan plateau, as well as the middle section of the Western Ghats in the western coastal zone of the Indian Subcontinent.
The ashoka is prized for its beautiful foliage and fragrant flowers. It is a very handsome, small, erect evergreen tree, with deep green leaves growing in dense clusters.
Its flowering season is around February to April. The asoka flowers come in heavy, lush bunches. They are bright orange-yellow in color, turning red before wilting.
As a wild tree, the asoka is a vulnerable species. It is becoming rarer in its natural habitat, but isolated wild asoka trees are still to be found in the foothills of central and eastern Himalayas, in scattered locations of the northern plains of India as well as on the west coast of the Subcontinent near Mumbai.
There are a few varieties of the asoka tree. One variety is larger and highly spreading. The columnar varieties are common in cultivation.
Medicinal use
The bark of the asoka tree is used to make a drug, which is reported to possess a stimulating effect on the endometrium and ovarian tissue[1][2][3]
Mythology and tradition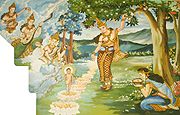 The asoka tree is considered sacred throughout the Indian subcontinent, especially in India and Sri Lanka. This tree has many folklorical, religious and literary associations in the region. Highly valued as well for its handsome appearance and the color and abundance of its flowers, the asoka tree is often found in royal palace compounds and gardens as well as close to temples throughout India.
The asoka tree is closely associated with the Yakshi mythological beings. One of the recurring elements in Indian art, often found at gates of Buddhist and Hindu temples, is the sculpture of a Yakshi with her foot on the trunk and her hands holding the branch of a flowering ashoka tree. As an artistic element, often the tree and the Yakshi are subject to heavy stylization. Some authors hold that the young girl at the foot of this tree is based on an ancient fertility symbol.[4]
The asoka tree has a symbolic importance in Buddhism. Queen Māyā of Sakya is said to have given birth to the Buddha under an asoka tree in a garden in Lumbini. According to tradition, the queen walked in the garden until she came to an ashoka tree to take a rest. Then the tree magically bent down for her and she grasped a branch. At that moment the Buddha emerged from her right side.[5]
Yakshis under asoka trees were also important in early Buddhist monuments as a decorative element and are found in many ancient Buddhist archaeological sites. With the passing of the centuries the yakshi under the ashoka tree became a standard decorative element of Hindu Indian sculpture and was integrated into Indian temple architecture as salabhanjika, because there is often a confusion between the ashoka tree and the sal tree (Shorea robusta) in the ancient literature of the Indian Subcontinent.[6]
This tree is also regarded with veneration in Jainism. In the Jain tradition Mahavira is said to have renounced the world under this kind of tree in Vaishali.
In Hinduism the asoka is considered a sacred tree. Not counting a multitude of local traditions connected to it, the asoka tree is worshipped in Chaitra,[3] the first month of the Hindu Calendar.[3] It is also associated with Kamadeva, the Hindu god of Love, who included an Asoka blossom among the five flowers in his quiver.[7] Hence, the asoka tree is often mentioned in classical Indian religious and amorous poetry, having at least 16 different names in Sanskrit referring to the tree or its flowers.[8]
In Mahākāvya, or Indian epic poetry, the asoka tree is mentioned in the Ramayana in reference to the Ashoka Vatika (garden of Ashoka trees) where Hanuman first meets Sita.
Other names
This tree has a multitude of names in Indian literature. Some names for the Ashoka tree and its flowers include:
In Sanskrit: Sita-Ashok, Anganapriya, Ashopalava, Asoka, Ashok, Asupala, Apashaka, Ashoka, Hemapushpa, Kankeli, Madhupushpa, Pindapushpa, Pindipushpa, Vanjula, Vishoka, Vichitra.
Other languages: Thawgabo, Thawka (Burmese), Vand ichitrah, Vanjulam (Hindi), Asok (Bengali), Osoko (Oriya), Asogam (Tamil and Malayalam), Asokamu, Vanjulamu (Telugu), Sokanam โสกน้ำ (Thai), Diyaratmal, Diyeratembela (Sinhala), Nikabilissa (Divehi), Achenge, Akshth, Ashanke, Kenkalimara, (Kannada), Gapis, Tengalan (Malay).[9]
See also
Gallery
References
↑ 3.0 3.1 3.2 Ashoka Tree
↑ Heinrich Zimmer, Myths and Symbols in Indian Art and Civilization. (1946)
↑ Buddhistische Bilderwelt: Hans Wolfgang Schumann, Ein ikonographisches Handbuch des Mahayana- und Tantrayana-Buddhismus. Eugen Diederichs Verlag. Cologne. ISBN 3424008974, ISBN 978-3424008975
↑ Cowen, D. V. (1984). Flowering Trees and Shrubs in India, Sixth Edition. Bombay: THACKER and Co. Ltd.. p. 5.

 

↑ Eckard Schleberger, Die indische Götterwelt. Gestalt, Ausdruck und Sinnbild Eugen Diederich Verlag. Cologne. ISBN 3424008982, ISBN 978-3424008982
External links
bn:অশোকhi:अशोक वृक्ष id:Asoka (pohon) hu:Hindu asókafa ml:അശോകം ja:ムユウジュpt:Açoca te:అశోకవృక్షం th:อโศกน้ำ zh:無憂樹
Ad blocker interference detected!
Wikia is a free-to-use site that makes money from advertising. We have a modified experience for viewers using ad blockers

Wikia is not accessible if you've made further modifications. Remove the custom ad blocker rule(s) and the page will load as expected.