Angelo Sodano (born 23 November 1927) is an Italian Cardinal of the Roman Catholic Church. He is the current Dean of the College of Cardinals and former Vatican Secretary of State, having held that post from 1990 to 2006, under both popes John Paul II and Benedict XVI. On 27 April 2005, he was elected to succeed Benedict XVI as Dean of the College of Cardinals by his fellow Cardinal Bishops. Sodano was the first person since 1828 to serve simultaneously as Dean and Secretary of State.
On 22 June 2006, Benedict XVI accepted Sodano's resignation as Secretary of State, effective on 15 September, 2006. He was succeeded by Tarcisio Bertone, then Archbishop of Genoa.
Early life
The second of six children, Angelo Sodano was born in Isola d'Asti, Piedmont, to Giovanni and Delfina Sodano. His father was a Christian Democrat deputy in the Italian Parliament for three terms from 1948 until 1963. After studying philosophy and theology at the seminary of Asti, Sodano was ordained a priest by Bishop Umberto Rossi on 23 September, 1950, and then did pastoral work and taught dogmatic theology at the Asti seminary.
He then furthered his studies in Rome at the Pontifical Gregorian University, from where he obtained a doctorate in theology, and at the Pontifical Lateran University, earning a doctorate in canon law. In 1959 he entered the direct service of the Holy See. He served as secretary in nunciatures in Latin America, and was given the title of monsignor, initially with the rank of Chaplain of His Holiness and later with that of Honorary Prelate. In 1968 he was called to work in the Council for the Public Affairs of the Church in the Vatican.
Apostolic nuncio
On 30 November 1977, Sodano, who speaks English and German, as well as Spanish, French and Italian, was appointed a titular archbishop of Nova Caesaris and the apostolic nuncio to Chile, one of the countries where he had served as nunciature secretary. He was ordained a bishop in his native Asti by Cardinal Antonio Samoré on 15 January 1978.
He arrived at a difficult moment, with Chile on the brink of war with Argentina over the Beagle Channel and Augusto Pinochet in power.[1]
In 1980, together with Cardinal Raúl Silva Henríquez, he tried without success to get Pinochet to allow the return of certain political exiles, and in 1984 he obtained, at the cost of a dispute between the Holy See and the military government of Chile, safe conduct for four members of the Revolutionary Left Movement, who had sought diplomatic asylum in the nunciature, to leave for Ecuador.[1]
In 1987, when Pope John Paul II visited Chile, Pinochet availed of the visit that the Pope regularly paid to a country's head of state to get the Pope to appear with him at a balcony of the presidential palace, although this was not in the agreed programme. On the other hand, Sodano arranged a meeting in the nunciature between the Pope and the leaders of the opposition.[1]
Seven Chilean priests then wrote to the Pope to have Sodano removed from his post as Nuncio. What the Pope did in fact in the following year was to appoint Sodano the Holy See's Secretary of the Council for the Public Affairs of the Church, a post corresponding to that of a foreign minister, and on 1 December 1990 named him to the highest post in the Roman Curia, that of Secretary of State, creating him a cardinal as Cardinal Priest of the titular church of S. Maria Nuova on 28 June 1991.
On 27 December 1998, he wrote, at the request of the democratic government of Chile, an official letter to the British prime minister Tony Blair stating that "the Chilean Government considers it an offence to its territorial sovereignty as a nation the fact of being deprived of the power to judge its own citizens" through the detention of Pinochet in Britain.[1]
Styles of


Angelo Sodano

Reference style
His Eminence
Spoken style
Your Eminence
Informal style
Cardinal
See
Albano (suburbicarian), Ostia (suburbicarian)
Secretary of State
On 10 January 1994, Pope John Paul II named Sodano Cardinal Bishop of the suburbicarian see of Albano, and on 30 November 2002, exactly twenty-five years after he was first appointed a bishop, he was elected vice-dean of the College of Cardinals in succession to Cardinal Joseph Ratzinger, who became Dean. On Ratzinger's election as Pope, it fell to Sodano to perform the functions allotted to the Dean at the end of the conclave (asking the pope-elect if he accepted the election, and then asking what name the new pope wanted to use) and at Benedict XVI's Papal Inauguration. On 30 April Benedict formally ratified Sodano's election to the position by the suburbicarian Cardinal Bishops. Accordingly the title of the suburbicarian see of Ostia, proper of the dean, was added to the title of the see of Albano and the title of S. Maria Nuova, held by him in commendam after his promotion to the rank of Cardinal Bishop.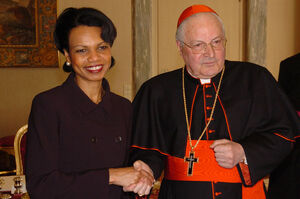 Due to the deteriorating health of John Paul II, it was Cardinal Sodano, as Secretary of State, who was the principal celebrant at the funeral Masses for Cardinal John O'Connor and Mother Teresa. When in 2002 Sodano turned 75, John Paul specifically invited him to stay on as Secretary of State, though this is the customary retirement age for heads of major Vatican departments. (There is no retirement age for the Deanship or Vice-Deanship). He was close to John Paul II, although he caused controversy near the end of John Paul's papacy by suggesting the pontiff could consider retiring.
When Pope John Paul II died on 2 April 2005, Sodano, who participated in the 2005 papal conclave, was not generally seen as one of the papabili, the cardinals likely to become the next pope. This was largely due to his advanced age, although he is seven months younger than the cardinal who was eventually elected, Pope Benedict XVI, and his lack of experience outside the Roman Curia.
Sodano's position as Secretary of State expired upon the death of John Paul II. But Benedict XVI reappointed him to the position on 21 April 2005, in spite of being past the customary retirement age.
On 22 June 2006, Benedict XVI appointed Cardinal Tarcisio Bertone to replace Sodano as the Secretary of State. Bertone assumed the new office on 15 September 2006.
Sodano turned 80 on 23 November 2007, and is ineligible to participate in any future conclaves.
References
External links
R. d'Elci
 (1670–1761) (1737, 1755) •
G. Spinelli
 (1694–1763) (1735, 1761) •
C. Cavalchini
 (1683–1774) (1743, 1763) •
G. Albani
 (1720–1803) (1747, 1774) •
H. Stuart
 (1725–1807) (1747, 1803) •
L. Antonelli
 (1730–1811) (1775, 1807) •
A. Mattei
 (1744–1820) (1779, 1814) •
G. della Somaglia
 (1744–1830) (1795, 1820) •
B. Pacca
 (1756–1844) (1801, 1830) •
L. Micara
 (1775–1847) (1824, 1844) •
V. Macchi
 (1770–1860) (1826, 1847) •
M. Mattei
 (1792–1870) (1832, 1860) •
C. Naro
 (1798–1876) (1834, 1870) •
L. di San Filippo e Sorso
 (1796–1878) (1837, 1876) •
C. di Pietro
 (1806-1884) (1853, 1878)•
C. Sacconi
 (1808-1889) (1861, 1884)•
R. Monaco La Valetta
 (1827-1896) (1868, 1889)•
L. Oreglia di Santo Stefano
 (1828–1913) (1873, 1896)•
S. Vannutelli
 (1834-1915) (1887, 1913)•
V. Vannutelli
 (1836-1930) (1889, 1915)•
G. Granito Pignatelli di Belmonte
 (1851-1948) (1911, 1930)•
F. Marchetti-Selvaggiani
 (1871-1951) (1930, 1948)•
E. Tisserant
 (1884-1972) (1936, 1951)•
A. G. Cicognani
 (1883-1973) (1958, 1972)•
L. Traglia
 (1895-1977) (1960, 1974)•
C. Confalonieri
 (1893-1986) (1958, 1977)•
A. Rossi
 (1913-1995) (1965, 1986)•
B. Gantin
 (1922-2008) (1977, 1993)•
J. Ratzinger
 (1927-) (1977, 2002)•
A. Sodano
 (1927-) (1991, 2005)
&nbsp
Ad blocker interference detected!
Wikia is a free-to-use site that makes money from advertising. We have a modified experience for viewers using ad blockers

Wikia is not accessible if you've made further modifications. Remove the custom ad blocker rule(s) and the page will load as expected.