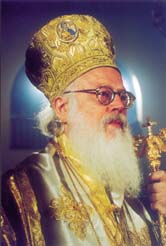 His Beatitude Anastasios (Yannoulatos), Archbishop of Tirana, Durrës and All Albania is the current primate of the Church of Albania. Besides being a prolific writer, Anastasios is known for his critical leadership in the resurrection of the Albanian church in the 20th century after it was decimated by the Communist regime.
Anastasios is also Professor Emeritus at the University of Athens and a Corresponding Member of the Academy of Athens.
Bibliography
Facing the World: Orthodox Christian Essays on Global Concerns. St. Vladimir's Seminary Press: Crestwood, New York, 2003.
Preceded by:
?
Bishop of Androussa
1972-1982
Succeeded by:
?
Preceded by:
Frumentius
Archbishop of Irinoupolis
1982-1991
Succeeded by:
Petros (Papapetrou) Exarch
Preceded by:
Damianos (recognized by Russia)
Christophoros (Kissis) (recognized by Constantinople)
Archbishop of Albania
1992-present
Succeeded by:
—
External links
Ad blocker interference detected!
Wikia is a free-to-use site that makes money from advertising. We have a modified experience for viewers using ad blockers

Wikia is not accessible if you've made further modifications. Remove the custom ad blocker rule(s) and the page will load as expected.