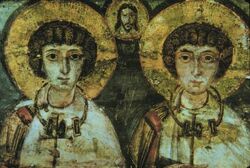 Adelphopoiesis, or adelphopoiia from the Greek ἀδελφοποίησις, derived from ἀδελφός (adelphos) "brother" and ποιέω (poieō) "I make", literally "brother-making" is a ceremony practiced at one time by various Christian churches to unite together two people of the same sex (normally men). It is argued by the historian John Boswell in his book Same-sex unions in pre-modern Europe, also published as The marriage of likeness, that the practice was to unite two persons in a marriage-like union. This is different from the information provided by the Greek Orthodox Church [1] where the practice is translated as "fraternization" and makes no mention or suggestion of anything sexual. The ceremony was mainly practised by the Eastern Orthodox Church - Boswell gives text and translation for a number of versions of this ceremony in Greek, and translation only for a number of Slavonic versions.
Thesis
The purpose of the adelphopoiesis ceremonies has become controversial since Boswell maintained that they were celebrating romantic, indeed sexual, unions between two men. It is worth noting that Boswell himself denies that adelphopoiesis should be properly translated as "homosexual marriage." He decries such a translation as "tendentiously slanted".[2] The Orthodox Church regards the ceremony as purely spiritual and indicating brotherhood.[1]
At the same time, Boswell claims that "brother-making" or "making of brothers" is an "anachronistically literal" translation and proposes "same-sex union" as the preferable rendering. Boswell's preference, however, is problematic. "Sex," for instance, while pointing to a seemingly "objective" characteristic of the participants involved in the rite, in fact draws attention to the physical condition or biological sex of the "brothers" -- whereas the rites for adelphopoiesis explicitly highlight the spiritual nature of the union and deny that it is a "carnal" one. [3]
Boswell commented on the lack of any equivalent in the Roman Catholic church; however, the British historian Alan Bray in his book The Friend, gives a Latin text and translation of a similar Roman Catholic rite from Slovenia, entitled Ordo ad fratres faciendum, literally "Order for the making of brothers". Also see Allan Tulchin, "Same-Sex Couples Creating Households in Old Regime France: The Uses of the Affrèrement."[4] in the Journal of Modern History: September 2007, which article demonstrates the ceremony of affrerement in France joined unrelated same gender couples in life long unions which raised family held property jointly and were in all respects the same as or equivalent to marriages in terms of law and social custom, as shown by parish records.
Criticism of Boswell
The historicity of Boswell's interpretation of the ceremony is contested by the Greek Orthodox Church, which sees the rite as a rite of familial adoption, as the term adelphopoiesis literally means "brother making". [5] Other historians, including Robin Darling Young and Brent Shaw, have also criticized Boswell's methodology and conclusions.[6][7]
Archimandrite Ephrem Lash criticized Boswell's book in the February 1995 issue of Sourozh. According to Ephrem, Boswell mistranslates, misinterprets, and tendentiously organizes texts, and his "knowledge of Orthodox liturgiology is, in effect, non-existent."[8] With regard to Boswell's central claim to have found evidence for the use of wedding crowns in the rite for making brothers, Ephrem notes that what the relevant text says, "somewhat literally translated," is this: "It is inadmissible for a monk to receive [anadochos is a standard Greek word for 'godparent'] children from holy baptism, or to hold marriage crowns or to make brother-makings. [PG 150:124]" In other words, "monks are forbidden to do the following: 1. To act as godfathers at baptisms, 2. To act as supporters of bridal couples, 3. To enter into brotherly unions. These are, of course, the natural consequences of a monk's having given up all ties of earthly relationships."[9] Turning back to Boswell's thesis, Ephrem writes, "What does Boswell make of this? Here is his paraphrase of the text given above: 'monks must also not select boys at baptism and make such unions with them'. There is absolutely nothing in the text to suggest that the three prohibitions are linked in the way Boswell implies, nor that the 'children' are 'boys' -- the Greek has the neuter, paidia. In short, this first piece of evidence for the use of crowns in the ceremony of brother-making is not evidence for anything, except Boswell's ignorance, not to mention the prurient suggestion that Byzantine monks went round selecting suitable boys at baptism so as to 'marry' them later on."[10]
Alternative views[11] are that this rite was used in many ways, such as the formation of permanent pacts between leaders of nations or between religious brothers. This was a replacement for "blood-brotherhood" which was forbidden by the church at the time. Others such as Brent Shaw have maintained also that these unions were more akin to "blood-brotherhood" and had no sexual connotation.[7]
There also is a Medieval French 'affrèrement' ceremony: ordo ad fratres faciendum.[12][13] examined in Allan Tulchin's of Shippensburg University article in the Journal of Modern History.[14][15]
References
↑ 1.0 1.1 Fr. Evangelos K. Mantzouneas, Secretary of the Greek Synod Committee on Legal and Canonical Matters; English translation by Efthimios Mavrogeorgiadis, May 1994;Minor editing by Nicholas Zymaris. [http://syntheosis.org/Synod_Greece_1982.htm "Report on Adelphopoiesis 1982: "Fraternization from a Canonical Perspective" Athens 1982"]. http://syntheosis.org/Synod_Greece_1982.htm

. Retrieved 2009-02-03

.

 

↑ Same-sex Unions, p. 298-299.
↑ hina genontai pneumatikoi adelphoi hyper tous sarkikous (they become spiritual brothers rather than fleshly [carnal] ones). Greek text in Boswell, Same-Sex Unions, p. 316, n. 198.
↑

Allan Tulchin, "Same-Sex Couples Creating Households in Old Regime France: The Uses of the Affrèrement."Journal of Modern History: September 200

↑ Young, Robin Darling (November 1994). "Gay Marriage: Reimagining Church History". First Things 47: 43–48. http://www.leaderu.com/ftissues/ft9411/articles/darling.html

. Retrieved June 25, 2009

.

 

↑ 7.0 7.1 Shaw, Brent (July 1994). "A Groom of One's Own?". The New Republic: 43–48. http://web.archive.org/web/20060507014622/http://www.learnedhand.com/shaw_boswell.htm

. Retrieved June 25, 2009

.

 

↑ Archimandrite Ephrem, "Review of Same-Sex Unions in Premodern Europe", Sourozh, no. 59 (Feb. 1995): 50-55.
↑ Archimandrite Ephrem, "Review of Same-Sex Unions in Premodern Europe", p. 52.
↑

Ibid.

↑ http://www.eskimo.com/~nickz/qrd-eastern_orthodox/adelphopoiia.some-responses and http://www.melkite.org/Questions/M-4.htm
↑

Allan Tulchin, "Same-Sex Couples Creating Households in Old Regime France: The Uses of the Affrèrement." Journal of Modern History: September 2007.
External links
'affrèrement': http://www.nowpublic.com/study-medieval-gay-marriages