Coordinates: 31°50′15″N 35°32′58″E / 31.8375°N 35.54944°E / 31.8375; 35.54944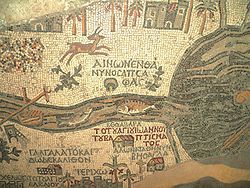 Ænon is a Greek word coming from a Hebrew term "ay-yin". It means "spring" or "natural fountain", and was a place near Salem where John the Baptist baptized (John 3:23). Its probable location was near the upper source of the Wadi Far'ah, an open valley extending from Mount Ebal to the Jordan River which is full of springs. There is a now place called Ainun four miles north of the springs.
It is found only once in the Bible, and in reference to baptism. The name is commonly used amongst Baptist organizations and churches.
The Madaba Map shows the location of Ænon, symmetrical with the location of Bethabara (the other place where John the Baptist baptized), across the Jordan.
Αίνών ένθα νύν ό Σαπσαφάς: Ænon, where now is Sapsaphas
Βέθαβαρά το τού άγίου Ιωάννου τού βαπτίσματος: Bethabara, the place of baptism of St. John
See also
External links
Ad blocker interference detected!
Wikia is a free-to-use site that makes money from advertising. We have a modified experience for viewers using ad blockers

Wikia is not accessible if you've made further modifications. Remove the custom ad blocker rule(s) and the page will load as expected.