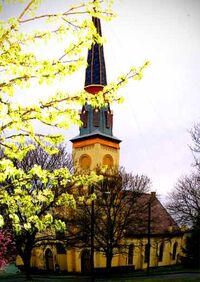 The Church of No Faith[1] is located in central New York State in the eastern United States. "The Church of No Faith is an organization dedicated to the fellowship and assembly of congregants who worship no mystery, believe in the human responsibility of self determination, and the finite nature of life. The church is housed in a historic 150 year old building (formerly a Methodist church) which fell into disrepair in the late 1990's and has been undergoing restoration since 2005 by the new minister and owner Paul Joffe. Services started in the spring of 2008 and will increase in frequency as the rehabilitation of the physical plant allows. The Church is 8000 square feet with a 200 hundred foot steeple and 3000 square foot rectory. The steeple, which was beginning to lean was completely rebuilt during 2005-2007 by Minister Joffe using traditional tools and materials."
Ad blocker interference detected!
Wikia is a free-to-use site that makes money from advertising. We have a modified experience for viewers using ad blockers

Wikia is not accessible if you've made further modifications. Remove the custom ad blocker rule(s) and the page will load as expected.